Provinces
| | |
| --- | --- |
| | This article is a stub. You can help Ghost Recon Wildlands Wiki by expanding it. |
This article is a stub. You can help Ghost Recon Wildlands Wiki by expanding it.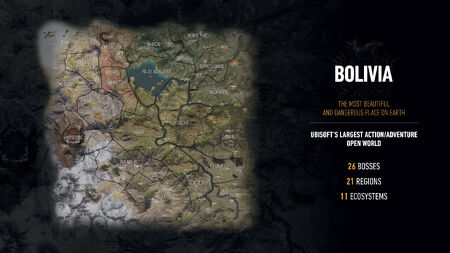 The Provinces in Ghost Recon Wildlands.
Information
See also: Cities & Points Of Interest for finding that specific weapon or Easter Eggs.
There are 21 Provinces in Bolivia (the world of Ghost Recon Wildlands), and most if not all have their own Biomes, known as the various Ecosystems. You'll start off in Itacua, where your first Mission will take place, after meeting Karen Bowman and arriving in the country. You're free to travel wherever you wish, but things might be a bit difficult without proper armament and firepower. Finding proper tools early on will help you to take out the difficult factions of the Unidad and the Santa Blanca Cartel along your journey, so exploring the various Weapon locations can be profitable in the long run, additionally you'll also need Supplies, which you'll find and be able to tag for the rebels that will allow you to upgrade later on.
Province Content
List Of Provinces